ONGOING PROGRAMS
(Click on poster for print version)
2020 SUMMER STUDENT EMPLOYMENT PROGRAM
Program Guidelines
Sponsor Letter
Application Form
ONGOING PROGRAMS
RFP Letter
Access Proposal Guidelines
RFP Fact Sheet
Application Form
URBAN SPIRIT FOUNDATION PRESENTS THE JOHN WEBSTER MEMORIAL CHARITY GOLF CLASSIC 2020

The John Webster Memorial Charity Golf Classic will be held on July 17, 2020.
Please click here to see poster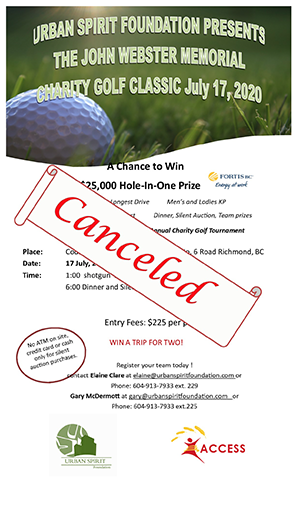 BCIT's Motor Vehicle Body Repair program:
Click here to learn more.
JOIN TEAM VPD - INDIGENOUS CADET PROGRAM
Looking for something exciting and different to do next summer?
Click here to see more information
AUTOMOTIVE COLLISION ESTIMATING
Learn autobody methodology, insurance regulation, advanced vehicle systems, collision damage diagnosis and estimating techniques.
NEW TRADES PROGRAMS
Welding Foundation
Piping Foundation
Metal Fabrication Foundation/Marine Fitter
For more information please visit our Trades Training page
ACCESS is the place to start building your future today. We deliver a unique and diverse assortment of education, training, counselling, support and financial services designed to help members of the urban Aboriginal community overcome barriers that may stand in the way of success and self-sufficiency. We develop partnerships with organizations and companies that match their needs to the needs of our Aboriginal clients creating a win, win situation for both partners.

ACCESS is an Aboriginal Skills and Employment Training Strategy (ASETS) holder. We are the only urban ASETS in British Columbia serving urban Aboriginal clients throughout Metro Vancouver. Our mandate is to enhance human resource development and the sustainable capacity of the urban Aboriginal population in Metro Vancouver through the provision of employment and training services. ACCESS is responsible and accountable for the programming, delivery, and reporting of results to government and community stakeholders.

Our core values are Respect, Honour, Kindness and Sharing and we treat our clients according to those values.

We envision an urban Aboriginal Community empowered through culture, wellness, achievement, and self–sufficiency. ACCESS offers customized employment and training services designed specifically to provide urban Aboriginal people with the education and skills they require to compete equally and effectively in today's job market.

Our programs are on-going through out the year. Clients need to register at our Employment Assistance office and meet with a counsellor to help determine eligibility and how we can best meet their needs.

Our programs are open to all aboriginal people all ages from youth to older workers. We look at your skills and interests and help create an action plan for building your future.

For convenience and ease of access for our clients, we have various locations throughout Metro Vancouver including Surrey, New Westminster, Downtown East Side, the Vancouver Friendship Centre and our Adminstration office and Trades office in West Vancouver.

ACCESS is funded by Service Canada and the Province of BC.
To Increase Aboriginal Participation in the Labour Market